This week I have the pleasure to announce a guest post for our Lessons from Matthew & Isaac. I met Cheri at a writers conference we both attended in Nashville about 3 years ago. Our ministries overlap in so many ways. She writes from her heart and the desire to send hope and healing to families who have suffered loss. In her latest book, Hope During Heartache, she shares the stories of families who have dealt with the pain and emotional healing from Infertility, Miscarriage, Stillbirth, or Death of a Child. I will hand over the keyboard to Cheri…see you again at the end of the post…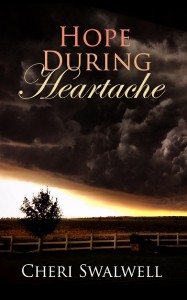 Hope During Heartache
Infertility…miscarriage…stillbirth…or death of a child. I'm a member of an exclusive group. I never wanted to join this club. When I was a little girl dreaming of my happily-ever-after, this particular sorority was never thought of as a possibility.
My orientation into this club began with a missed period in November 2006. I was happily married with two children. Even though this pregnancy was God planned, not we planned, my whole body reacted with sheer joy at the thought of another child from Him to raise, teach, and love. Before even having a chance to tell my husband the good news, I already had our child through his fifth year of life – at holidays, birthday parties, playing in the summertime – a real part of our family.
Miscarriage was something I thought happened to someone else, not me.  However, one day short of twelve-weeks marked the beginning of the end. I woke my husband up to tell him something wasn't right, but waited until after putting our six-year-old on the bus to call the doctor's office. I figured they would want to see me right away. Instead, I was ordered strict bedrest. Within two hours of staring at the ceiling trying not to worry, I lost our baby, in our bed, alone.
After a D&C two days later due to complications, my physical body recovered quickly, but emotionally it took me much longer.  About six months after the miscarriage, around the time our baby should have been born, I began searching for books that would offer me hope and a promise that I would smile again despite the pain that engulfed me. I never found exactly what I desperately needed. I remember crying out to God in frustration – long before the dream of writing was ever watered – and stating, "Someday, God, I will write a book that will offer hope to those who hurt!" Those powerful words, spoken with conviction, were tucked away deep into my heart.
November 2008, almost exactly two years after finding out I was carrying our third child, I missed another cycle.  Hoping, but not believing, and very much afraid this time, I stared at two lines on a stick and wondered how I would tell my husband yet again that God had allowed another miracle to grow.  July 2009 we welcomed our "bonus blessing," the child God knew needed to be born to make our family complete.
By this time, I was working full time from home as a medical transcriptionist which afforded me the flexibility of raising our littlest without having to rely on daycare.  I cherished every single day, thanking God for this blessing so underserved.  Not that our youngest was cherished more than our older two children, but the innocence we had with our other children had disappeared with the loss of our third.  All the while, the promise I had made two years before remained forgotten.
October 2011:  It was during my first writer's conference when God reminded me of the promise I had whispered to Him four years earlier.  "If this is what You want, Lord, I'll obey. Please lead me to the people whose stories You want shared." I came home and began asking courageous men and women if they would be willing to tell their personal stories of heartache, offering hope to others who are walking that path themselves.
By September 2014, the book that God put together became a reality, but had one missing part before it could be published. The perfect cover.  For months, I had been searching for a picture which would depict a message of hope during one of the darkest times in a parent's life.  I was getting frustrated, yet, I should know better.  God, my Father, who is always personal, also always has perfect timing.  My husband found the perfect picture on Facebook after a terrible storm swept through our area. I messaged the woman who took the photo and explained why I was asking permission to use it. She responded immediately with a "yes." She shared that her family has also been personally touched by the topic of the book.
October 1, 2014, Hope During Heartache was officially released.  It was the fulfillment of the promise I made to God one ordinary spring day in 2007 while I was desperately seeking hope and freedom from my pain.
God is never the Creator of pain. Instead, I believe He smiled the day I made Him that promise, borne out of frustration, to use the pain in our family's life to help others through their difficult journeys. As a result, He lovingly guided me every step of the way until that promise was fulfilled.
Hope During Heartache is the result of my promise to Him.
Cheri Swalwell is a Christ follower who thoroughly enjoys her calling to be a wife, mother, and writer, in that order. She enjoys writing regularly for Book Fun Magazine and LIFE TO THE FULLEST. Her Spoken from the Heart Series is available through Amazon in both eBook and paperback versions.  Her latest book, Hope During Heartache, a compilation of 13 men and women's stories told from their viewpoint about hope after the loss of a child, was released in October and is available at Amazon in paperback and eBook versions. To read one of her many articles on life from a Christian perspective, visit her blog at: http://bit.ly/1gRp9oK.  She loves to interact with her readers, so send her an email at [email protected]
Cheri's book can be purchased from Amazon in both print and eBook versions at the following link:
Hope During Heartache: True Stories of Emotional Healing from Infertility, Miscarriage, Stillbirth, or Death of a Child
Thank you, Cheri for the gift of Hope During Heartache. I read the book in just two sittings. I cried along with several stories as people shared their heart of the pain of loss and then peace. Their stories are very transferable to our own journey and I would trust that this is close to home to many in our CHARGE Syndrome community. Maybe there is someone you know who could benefit from this book.
Next week I will return with another Lesson…Until then you can lift up the Troupe's as we prepare Isaac for another surgery in November and for the start of a very busy season for our household as we fully immerse into the holiday season.
You may share our story, our prayer needs and this blog as you feel led by using the share buttons below. If you would like updates on when new content is added to the blog or to keep up with current prayer requests for the Troupe's you may subscribe at the top of the right hand column of this blog. Don't worry about providing your email address…I had enough SPAM and eggs growing up…l would never send any unnecessary SPAM your way!