Yes, it has been a long break from blogging…life is busy and we have had a few ups and downs to deal with. Thank you for continuing to follow our journey and for your support of prayer and encouragement. If you would take some time to look over the page I have added a few new features. There is a "Kevin Recommends" tab. So many of you inquire about books and products I talk about and show pictures of. There are categories like safety and security items, therapy items as well as books…take a look and let me know if you have any other recommendations I could add. We all have to be creative and I know you have ideas as well that could benefit another family. It is set up as an e-store so there are clickable links that will allow you to complete your purchase through Amazon. I would love to answer any questions about any of the items…they are tried and true in the Troupe house!
Theresa has also updated the Prayer List page. Some information there on what we have been up to and what is coming in the next few months. Lots of prayer needed!
Sometimes it just takes time…
We have some exciting news to share about Matthew! After a 7 year break from a center based school setting, Matthew re-started school after the winter holiday break. The preceding sentence are the book covers of an evolving story of faith, trust and doing what we knew was best for Matthew at the time. The following is the rest of the story…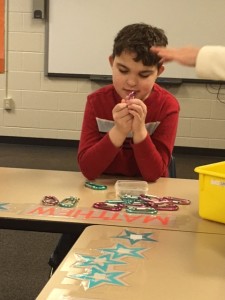 We have always been a homeschooling family. All of our children have flourished in this environment and it has worked for us. We realize that this arrangement is not for everyone…but for us it was the right thing to do. We struggled at first with putting Matthew in school in the first place. The school he went to when he started at age 5 was a great school (it is where he is again now). We were encouraged by friends and family that it was the "right" decision…after all, we needed a break from him and school was a good way for him to be occupied while learning something too. We know school is much more than just a way to occupy him but that was the phrase we heard multiple times over the years. The arrangement never felt right even though his teachers and the school staff gave it their best. It was not for the lack of trying or caring, we just felt that Matthew's needs were not being met in the way he needed them at the time. We knew he needed more individualized, one-on-one instruction and we felt that we could provide that more efficiently in our home school setting. Educational goals for us have always been more than just textbooks and memorization. Those are important but our mentality is that life is an education and we wanted to teach our kids that learning is a lifelong process, to become lifelong learners and to not just focus on a set amount of years in a classroom. The decision to bring him home was not an easy one. But we knew it was the right one…as we were contemplating the tough decision, Matthew was having multiple behavior issues at school and was fighting the process of getting ready to go to school each day. We finally listened to him when the very first compound sign language phrase he put together was "stay home" accompanied with real, crocodile sized tears.
For I am the Lord your God
    who takes hold of your right hand
and says to you, Do not fear;
    I will help you.  Isaiah 41:13
It has not always been easy…in fact I don't think there was ever and easy part of educating Matthew at home. The great news is that it worked! We allowed Matthew (and us) to learn at his own pace, within whatever interests he had at the time. This actually was the way we have and continue to teach at home by wrapping educational concepts around personal interests at the time. It was accomplished by sheer grit and determination by us doing the instruction and supported by outings and opportunities with the help of goals we set for his interaction with respite and community living support people that enriched Matthew's life. Matthew learned to read, sign and take interest in many things. He particularly has accelerated in deception, decoding locks and security devices, maneuvering around parental control settings and downloading apps and movies at lightening speed, shopping at Goodwill or the Salvation Army for beloved pajamas and a host of other skills.
So why change things now? Why would we entertain the option of putting him back into a school setting again? There are a few things that played into this decision and it has been an evolving feeling over the better part of a year. Theresa has done a wonderful job of building a room of sensory, OT, PT and other educational resources over the years. These have been invaluable to bring Matthew to this point. We came to a point where Matthew was just plain bored with what we have. Another clear sign was that Matthew attended a summer program that he absolutely loved. We keep a visual calendar system for Matthew as well as a daily one if we are going to be out of the house. Matthew would take us every day to the calendar on the fridge and point to the picture of his summer "school". Multiple times a day every day of the week. The problem was that the program was only three days a week (Tuesday, Wednesday and Thursday). I mentioned he would take us the calendar several times a day with some days this starting at 3:00 in the morning. Matthew would also, repeatedly, show us his desire to go shopping, swimming and go to the playground…anything to be out in the community with the use of his pictorial communication book. The summer program he attended still has a place in his heart. Every time we are on the highway and approach the exit that is the route where he went, Matthew giggles and gets excited…only to grumble when we pass it without exiting. These experiences were the beginning of a nearly six month process of Matthew telling us he was ready to go back to a school setting.
Timing is so important! If you are going to be successful in dance, you must be able to respond to rhythm and timing. It's the same in the Spirit. People who don't understand God's timing can become spiritually spastic, trying to make the right things happen at the wrong time. They don't get His rhythm – and everyone can tell they are out of step. They birth things prematurely, threatening the very lives of their God-given dreams. –  T. D. Jake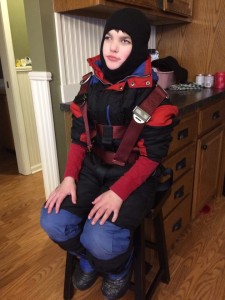 Yes, timing is everything. We felt it was time to make a change for Matthew and fight back the feelings of not being able to meet his needs fully. Our new local school district was nothing short of amazing as well as the staff at his school at the making of this transition. We felt, at times, that this is going too smooth. Every accommodation of the process went better than we imagined. Most, if not all of the evaluations and testing for the best fit for Matthew happened in our home to accommodate our need to care for Isaac. Even the initial meeting of Matthew's new teacher took place on Matthew's turf at our home. It was abundantly clear through this process that Matthew needed a one-on-one person to work with him to achieve the best results. Matthew needs what is known as an Intervener. An intervener is different than an interpreter, in that this person receives specialized training to help a person with the unique challenges of being both vision impaired and hearing impaired…or Deaf-Blind. This is not an easy position to fill! There are only eight certified interveners in our state (Michigan). The best solution is to hire, then begin the specialized training. Theresa was invited to participate in the final interviews so as to help find the perfect personality fit for Matthew.
After only his first week Matthew experienced the disappointment of a snow day. As the unexpected day off progressed he pointed several times to the appropriate calendar day where it clearly showed a picture of his school. He kept putting on his special bus seatbelt harness and his coat. The next morning he was up early, dressed himself in his snowsuit, hat, boots and harness and sat on a stool a full 15-20 early and waited for the bus. For those of you who know Matthew personally…he hardly ever sits still patiently. He even practices putting on his snowsuit, boots and harness at night before bed.
We are taking this as a clear sign that he is excited about this new journey. With all of our recent emergencies and other health issues it is a peaceful feeling to see Matthew really happy and excited about something. Sometimes things just take time.
Kevin is available for speaking to groups of any size. Click on the "Want Kevin to speak at your event?" tab above for more information. You may share our story, our prayer needs and this blog as you feel led by using the share buttons below. If you would like updates on when new content is added to the blog or to keep up with current prayer requests for the Troupe's you may subscribe at the top of the right hand column of this blog.