It never gets easy. Isaac is scheduled for a third cleft repair surgery this week, one that will focus on his lip and nose, with a slight touch-up on his palate. It will never get easy to plant that last kiss and that last squeeze of the hand as the anesthesiologist team wheels them down the hall. Speaking of wheels, check out Isaac's new walker! He loves his new freedom!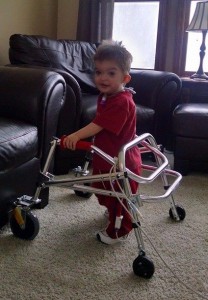 As we prepare for another surgery you would think that our nearly 40, yes 40 combined surgeries/procedures between Matthew and Isaac we would be on cruise control…but, they never get easier…in fact, they get harder. Harder because as they get older they also get wiser and it hurts more. Hurts them more and hurts us more as we sign the next consent form.
Although we enter this new experience with a healthy respect and aware that there are risks we also go with a firm belief that this is all in God's hands. You see, we are in tune with a certain voice. A voice that leads us through tough valleys AND beside restful waters.
It is not easy to be tuned to that voice. There are much louder, much fancier and even sometimes seemingly more logical voices to listen to. We are surrounded by voices that pull us in many directions…unfortunately in the direction of stress, being anxious, fearful and not at peace.
My sheep hear my voice and I know them, and they follow Me. John 10:27
I am sure it is no coincidence that I am reading a book right now that has prepared me for this next step of faith. The book is The Lord Is My Shepherd: Resting in the Peace and Power of Psalm 23
 by pastor and author Rob Morgan, who is no stranger to caring for sheep takes us through a journey of this most famous and most often quoted Psalm. As we approach this "valley" I was reminded this morning as I read this following thought:
"That's the thing about valleys. They have shadows and sorrows, but they are "through" passages. Psalm 23:4 does not speak of a cave or a dead-end trail. It's a valley, which means it had an opening on both ends…David didn't even use the phrase "though I walk in the valley". The emphasis is on through, which indicates a temporary state, a transition, a brighter path ahead, a hopeful future."
I think we would all prefer the side of quiet waters and the lush green pastures where we can lay in the sun and have the serene picture of peace. But we cannot fully experience one without the other. God leads us through both, which means he doesn't prevent the shadowy valleys from happening but he does promise to lead us through them, with a little comfort along the way. Interestingly the same staff that gives correction by guiding our paths is the same one that is reached out, gently on our backs as an extension of the shepherd to show affection and assurance. I know my shoulders have bruises at times due to that staff steering me left and right…It is a quiet voice but it is much easier to be guided by His voice instead of the staff.
How do we find that voice, that peace? How do we get back on the path? Rob shared this story of an aged sheep in his flock that was blind due to age:
"Lucy became so old and feeble that she was virtually blind. She often ran into the gate or fence because she couldn't see anything…for all practical purposes, she was blind. Yet there was nothing wrong with her hearing…she wouldn't move until she heard my voice. But, when I called her, she would always take a tentative step in my direction. I'd have to keep talking to her, because otherwise she'd get off track. She'd go on a wayward course…It's in reading, memorizing, pondering, and searching God's word that we most clearly hear His voice and gear our minds to His whispers in our ears, telling us when to turn to the left and to the right."
Are you anything like Lucy? Do you get off track? Is the rod more familiar than His voice to you? Take time to listen to His voice. Please pray this week that we keep tuned to His voice of assurance, of peace and that we come out of the valley stronger and on a brighter path.
You may share our story, our prayer needs and this blog as you feel led by using the share buttons below. If you would like updates on when new content is added to the blog or to keep up with current prayer requests for the Troupe's you may subscribe at the top of the right hand column of this blog. Don't worry about providing your email address…I had enough SPAM and eggs growing up…l would never send any unnecessary SPAM your way!