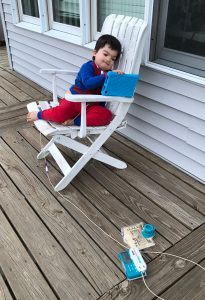 Yup, it has a been a long time since we have given an update. In the brief version, we are all doing well and are in a period of life with our family that best be described as "a good place", at least as it pertains to health and development.
We want to wish this boy a Happy 5th Birthday! Not only is it Isaac's birthday but he has some great news to announce…he will be starting school this summer and fall! We are currently working out all of the details but he will be attending a "regular" school in a special needs classroom with daily inclusion in a "regular" kindergarten classroom. He had a site visit and he absolutely loved it! Isaac loves people and loved having all of the activity around…especially when he visited the playground. More details will come as he begins this new journey.
Another brief thing about Isaac lately…he has taken a liking to our outside deck and furniture. With the nice weather lately our deck slider door will occasionally be left slightly open with both Sarah Anne and Matthew coming and going. Isaac can sense a break in the force and has been found a few times outside on the deck sitting in a chair watching his Kindle. The boy loves the outdoors!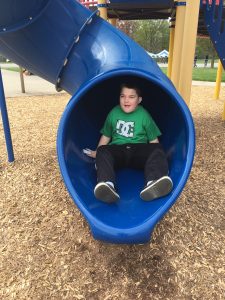 Matthew is doing great in his school setting as well. We just completed a conference meeting with his teachers, aides and his one-on-one Intervener. It was hilarious to hear about Matthew's personality at school. It appears he is quite the jokester and a klepto when he visits the "good behavior" store. The story that was shared involved him wearing his body sock and while the teachers were busy assisting another student at the store Matthew filled the bottom of his body sock with all kinds of treats from the store, including several of his favorites right now, mini slinky's. Another funny story is that to keep Matthew's focused attention they occasionally have to take his fidget item away from him. He almost always has a Velcro diaper tab in his hand. They will take it from him and place it in their pocket. Later in the day, after a few pokes in the butt, and mistakenly wondering why Matthew is being "fresh" with them, they will remember the diaper tab in their pocket. And his sense of humor shows occasionally when they ask him to "write name". Instead of writing "Matthew", he will write "name" and giggle.
I want to conclude this update with an article that we wrote and was published in our church's magazine in an issue that was focused around prayer…It is one of our stories of how God answered a prayer we had going for nearly five years…
May 6, 2012 was a Sunday morning was the beginning of yet another journey of prayer for our family. On that morning just before our church congregation was gathering for the first service my wife, Theresa drove herself to the hospital to be checked out. She was just a little over 34 weeks pregnant with our fifth child and was experiencing some discharge. We decided I would stay at home with our other four children and anxiously awaited to hear her report…

Many of you know me as our Culinary Services Director at Calvary Church. Many of you also know that two of our five children have a rare genetic disorder that manifests itself very uniquely to each that are affected by it. Our oldest with CHARGE Syndrome will be 16 years old this summer and Isaac will be five in May.

I want to share with you an answered prayer that actually began that morning of May 6 as our congregation prayed for our soon to be born Isaac. Theresa was actually in labor and, ready or not, Isaac was going to be born 6 weeks early. Gone were the plans to have Isaac born in Ann Arbor at U of M Hospital with a specially chosen team of doctors who were ready to address each of Isaac's "known" anomalies. Much like the birth of Matthew we were faced with many decisions that morning…Airlift mom and baby to U of M? Airlift baby right after birth? As our congregation prayed the team that was on call for that morning at Devos Children's Hospital was Theresa's primary "high risk" doctor…and, the Neonatologist just "happened" to be the same one that received Matthew at Devos ten years before! We were in good hands despite our fears.

Isaac spent 3 months in the NICU and over the past 5 years with Isaac and nearly 16 years with Matthew we have been through many prayer journeys. Isaac has had somewhere around 40 sedated surgeries, procedures or tests (with more coming in the near future). He has been medically fragile from day one. He requires 24 hour care which we cover during the day and have a nurse in our home at night so we can sleep. Because of this arrangement we have to have a well-orchestrated plan to be able to do anything outside the walls of our home…often a plan to attend an event for our children, appointments, etc. needs to be planned months in advance to assure nursing care for Isaac and/or a trained caregiver for Matthew. The alternate plan is to always have Theresa or myself at home while the other goes out.

Between Matthew and Isaac we have requested and have been bathed in prayer for each step. We know that God answers prayer with one of three answers…Yes, No, and In His time.

"If you believe in prayer at all, expect God to hear you. If you do not expect, you will not have. God will not hear you unless you believe He will hear you; but if you believe He will, He will be as good as your faith." – Charles Spurgeon

One constant prayer we have had since Isaac was born was to be able to worship as a family once again. You see, since Isaac was born we have had to worship separately, in shifts or worship via the online service. Isaac has just been too medically fragile and Matthew requires trained supervision as well. Over the past year we have seen God work in wonderful ways with Isaac's health and with Matthew's behavior challenges.

Through a coordinated effort with our Special Needs Ministry at Calvary, on January 22 all seven of us attended services together as a family for the first time in four and a half years. "Welcome Home" has never sounded or felt so good. Sometimes God answers our prayer in his perfect timing…even though that timing doesn't make sense or may take many years to answer. I know it was no coincidence that one of the songs we sang that morning was "10,000 Reasons" by Matt Redman. It was a song I quietly sung to Isaac almost every night while he was in the NICU.

Being in the presence of many during worship and listening to word is powerful. Even more powerful when experiencing the presence of God as a family. Even though it is not without challenges, we are grateful to be worshiping together once again. This return to fellowship has been especially positive for Theresa who bears the isolation of having special needs children a little more than the rest of us as she is Matthew and Isaac's primary caregiver along with being mom to our other three children. We are overwhelmingly grateful for our Calvary family who have prayed us through our most difficult times.

This was from a portion of our benediction from the time when Isaac was born as we were studying the book of Ephesians as a congregation. It has become one of our most common truth and comfort scriptures as we have walked this journey:

"Now to him who is able to do immeasurably more than all we ask or imagine, according to his power that is at work within us, to him be glory in the church and in Christ Jesus throughout all generations, for ever and ever! Amen". Ephesians 3:20-21
God is good…all the time. All the time…God is good.
Kevin is available for speaking to groups of any size. Click on the "Want Kevin to speak at your event?" tab above for more information. You may share our story, our prayer needs and this blog as you feel led by using the share buttons below. If you would like updates on when new content is added to the blog or to keep up with current prayer requests for the Troupe's you may subscribe at the top of the right hand column of this blog.