Did the headline grab your attention? Good, it was meant to, but not in the way you may be thinking. Sure, I could go down the path of "why me?" and all the things we miss out on as individuals and as a family because of having two children/siblings with special needs. There are missed opportunities, missed friendships, strained family relationships, misunderstandings of our motives or reasons by not being able to accept invitations to do things, why we have germ phobia…all part of the sacrifices we have to make with having special needs kids in our family.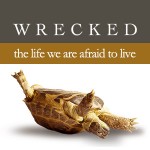 I don't want to follow that path…we as a family have been Wrecked in a different sense of the word. We have been Wrecked in a beautiful, remarkable way. I have been reviewing and have been part of a team that is launching a new book that is about to be released next month…a must read. The book is WRECKED: When a Broken World Slams Into Your Comfortable Life, by author, blogger and speaker Jeff Goins (download the first section of the book for free using this link). Wrecked is a journey of unbecoming, covering the stories of people whose lives have been turned upside-down in the best way possible—and what they decided to do afterwards. Jeff explains in the following description of the book:
"We all want to know why were put on this earth, why we were created. But the answer may, in fact, shock you. Whether it's a trip to the developing world, a brush with poverty, or a painful tragedy, we all need moments that change the way we see the world, moments that challenge our complacency and call us to something more.

Once you've been wrecked, there's no going back. And perhaps that's not such a bad thing.
Yes, I have been Wrecked. We have been Wrecked as a family…In a beautiful, remarkable way. When Matthew came into our lives 11 years ago, with no warning of how things would be different and how our life path would change forever, we were on a path to a life of mediocrity, complacency and comfortable. We were Christians, attended church regularly, taught Sunday School, talked about God often and even did some missionary work. But, we weren't Wrecked. And now, as our family has grown to five children with the addition of Isaac, God has chosen to wreck us once again. We are being taken to a deeper level of total reliance on God for strength, for support and for healing. As our faith ebbs and flows with each new challenge and victory, it can be a struggle to keep our eyes on what God is doing in the bigger picture and how we are to use our experiences to further glorify him.
What does being wrecked look like from our perspective? Wrecked for us means a life measured by each breath that is taken and each beat of the heart for each of our children, special needs or not. Wrecked means choosing to believe that God is in control and he has blessed us as a family with a way to be able to see him and his fingerprints in our lives with more clarity and frequency than most people. Being wrecked looks like we have everything under control on the front side with smiles and composure…but on the back side we fall to our knees, even prone on our face crying out to God for strength…just a little strength to get through the next day. Being wrecked is knowing that crying out to any one other than God is just crying and whining. Being wrecked is being available to share what God is doing in our lives and through all five of our children, for him to be glorified and praised, even when we are at the end of our strength and just want rest. Being wrecked means being vulnerable, misunderstood, misquoted…all the while knowing that God sees what is in our heart, our minds and our motives when dealing with family, friends and anyone else who has never been wrecked. The process of being wrecked has made each of us more compassionate, more tolerant, more patient, has us praying more and made our faith more simple by being completely reliant on God. Being Wrecked is holding your 10 week old baby in a quiet hospital room, staring eye to eye for nearly an hour straight…a gaze that would melt the heart of even the hardest of souls in need of being wrecked.
"This is what anyone who has been wrecked can hope for: to be led where you once didn't want to go and actually be glad you get there." 

"It means to have a transformation that goes beyond mere words—to be introduced to another way of life, to follow in the footsteps of a teacher who is calling you through the eye of a needle. Often it involves being catalyzed by an encounter with pain. The process is horrible and ugly and completely gut-wrenching—and at the same time, beautiful. It is real and hard and true. Most of all, it is necessary."  WRECKED: When a Broken Word Slams Into Your Comfortable Life – Jeff Goins
What is your wrecked experience? Are you in need of being wrecked? I know I am…"The process is horrible and ugly and completely gut-wrenching and at the same time, beautiful."
Thank you for supporting and praying for us through this journey. As our God continues to wreck our family, I pray that you are wrecked in the process…in a beautiful and remarkable way.
Isaac Update: I know, I know, it has been a long time since the last update. Yes, he is still in the hospital and starting our 13th week…but there is hope and light on the horizon!. Many of the hurdles have been crossed, there are a few more to jump this next week. Isaac is gaining weight, wants to be held constantly, stares into your eyes for extended periods of time and tracks every move you make around his room when he is awake and in bed. Isaac will have a few more procedures done this week on Thursday with the possibility of going home on Friday. A few things for prayer this week: pray that his oxygen levels and blood gasses stay consistent (he has had a few nights that were rough), pray for the dilation procedure of his esophagus on Thursday and for no complications with anesthesia and being on the ventilator. Life at home will be a huge challenge and a huge transition. We are thankful for having 8 hours of nursing care approved so we can sleep at night…Isaac will require observation and care 24/7. This will not be foreign to us, just magnified with both Isaac and Matthew! Once Isaac is at home we will have weeks of dilations, each one requiring a one or two night stay in the hospital. A few months down the road we can begin to look at more work on his stomach to complete his feeding tube button and to begin the process of repairing his cleft lip and palate.
You may share these prayer needs and this blog as you feel led by using the share buttons below. If you would like updates on when new content is added to the blog or to keep up with current prayer requests for the Troupe's you may subscribe at the top of the right hand column of this blog. Don't worry about providing your email address…I had enough SPAM growing up…l would never send any unnecessary SPAM your way!