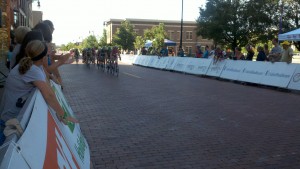 Recently we were invited to watch a friend compete in a bicycling event held in our own home town. This was my first time attending a professional bicycling road race and I was taken in by the excitement of the crowd as the various levels of beginner, amateur and professional racers took their turn. I was intrigued by the various pieces of equipment; special bikes with barely any weight, shoes and pedals, seats, sleek helmets, and all the different wheel and tire combinations. All this equipment is intended to make the rider better and faster. As one looks deeper into the sport there is conditioning, diet and precise strategy of teams to help pace a race and improve the odds of one person on your team who has held back, conserving energy, to sprint at the end. Even though I have owned several bicycles from the early years of "sissy" bars and banana seats (showing my age) to my most recent mountain bike, this whole sport was way out of my league. Sure, I could have put on all the right equipment and grabbed the nearest bike…but, I would have just been in the way after just the first lap as I awkwardly made my way around the course. It would have been entertaining watching me  try to make all of the equipment, intended to make one better and faster, just work together in unison.
Over the past several weeks as a church we have been studying the Armor of God reference from the book of Ephesians. We are now about halfway through an in-depth description of each "piece" and the significance behind what the pieces represent.
10 Finally, be strong in the Lord and in his mighty power. 11 Put on the full armor of God, so that you can take your stand against the devil's schemes. 12 For our struggle is not against flesh and blood, but against the rulers, against the authorities, against the powers of this dark world and against the spiritual forces of evil in the heavenly realms. 13 Therefore put on the full armor of God, so that when the day of evil comes, you may be able to stand your ground, and after you have done everything, to stand. 14 Stand firm then, with the belt of truth buckled around your waist, with the breastplate of righteousness in place, 15 and with your feet fitted with the readiness that comes from the gospel of peace. 16 In addition to all this, take up the shield of faith, with which you can extinguish all the flaming arrows of the evil one. 17 Take the helmet of salvation and the sword of the Spirit,which is the word of God.

18 And pray in the Spirit on all occasions with all kinds of prayers and requests.With this in mind, be alert and always keep on praying for all the Lord's people. Ephesians 6:10-18 NIV
The in-depth look at this "equipment" has deepened my understanding of this passage. Along with my experience at the bike race have made me think about the reality of how awkward I made look using this equipment and if my conditioning is up to par. Am I in the best shape, physically, emotionally and spiritually to don the equipment and for it to be effective? In reading over the past few months I came across what is known as the "creed" of the elite military group known as the Navy SEALs. I clipped and saved it as a few of the paragraphs caught my attention. I think these paragraphs fit what I am trying to say…
I serve with honor on and off the battlefield. The ability to control my emotions and my actions, regardless of circumstance, sets me apart from other men.

Uncompromising integrity is my standard. My character and honor are steadfast. My word is my bond.

We expect to lead and be led. In the absence of orders I will take charge, lead my teammates and accomplish the mission. I lead by example in all situations.

I will never quit. I persevere and thrive on adversity. My Nation expects me to be physically harder and mentally stronger than my enemies. If knocked down, I will get back up, every time. I will draw on every remaining ounce of strength to protect my teammates and to accomplish our mission. I am never out of the fight.  Portion of the Navy SEALs creed
I have been challenged by these experiences and teachings that in order to effectively wear the armor and use it effectively…I have to have a solid foundation, a strong base, a fit body. Without the underlying strength of integrity and character that only comes from a strong relationship and being a student of my creator, the armor would be too much to bear…it would crush me with its weight. A strong, well prepared and trained student along with the proper use of the right equipment make for a successful pairing.
I think this point is supported further by something I came across as I was doing some fun reading of a collection of stories written by Malcolm Gladwell compiled in a book titled What the Dog Saw: And Other Adventures
. In one particular story Malcolm was looking at the "rest of the story" about Ketchup. Why Heintz is at the top of the ketchup market and has been there since the beginning of condiment. Part of the reasoning of why Heintz is at the top of the market has to do with amplitude. Malcom explains a little about this with some reasearch by Edgar Chambers IV, director of the Sensory Analysis Center at the University of Kansas…
After breaking the ketchup down into its component parts, the testers assessed the critical dimension of "amplitude," the word sensory experts use to describe flavors that are well blended and balanced, that "bloom" in the mouth. "The difference between high and low amplitude is the difference between my son and a great pianist playing 'Ode to Joy' on the piano," Chambers says. "They are playing the same notes, but they blend better with the great pianist." Pepperidge Farm shortbread cookies are considered to have high amplitude. So are Hellmann's mayonnaise and Sara Lee poundcake. When something is high in amplitude, all its constituent elements converge into a single gestalt. Malcolm Gladwell, What the Dog Saw and other adventures
That's what I am looking for…Amplitude in my journey. Strong enough and worthy to wear the armor and to know how to use it when I put it on. Do you have amplitude? Is your walk well blended and balanced?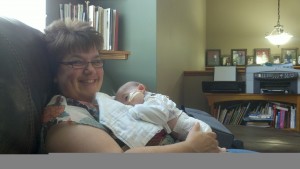 ISAAC UPDATE: Blah, blah, Kevin…Amplitude. Get to the news everyone has been waiting for! ISAAC IS HOME! After 89 days in his "little corner" of the NICU at Helen Devos Children's Hospital, we were able to bring him home on Thursday, August 2. We are still getting used to the new routine of 24 hour care for him, but we are so glad to be able to care for him in his own bed and be a part of the family. His stay at home is short as we will be back in the hospital next week for another surgery and procedure to place his more permanent feeding tube and another dilation of his esophagus. This should only be a one night stay…but we know all-to-well the unpredictable nature of our CHARGER's. Please pray for this next step. We will also be meeting with his surgeon this week who will be doing his cleft lip, palate and nose repair. The plan is to repair the nose and lip first, then move on to the palate at a later date.
We know the road will be bumpy at times but it sure is nice to be able to clear the first hurdle and bring this little miracle home. It was through the power of your prayer that we can proclaim "God is good, all the time. All the time, God is good."
Please, please, please share this with everyone you shared our prayer requests with in the past…this time for a big, loud resounding PRAISE! There are icons below you may click on to use your prefered method. As always, if you would like to become a "prayer partner" and be notified as we add information and new blog posts you may do so at the top of the right column.