A reminder…last one! If you happen to be in the Grand Rapids, Michigan area I will be speaking at Calvary Church on Wednesday night, January 16, 2013 at 7:00 P.M. I will be sharing about our family and the joys and sorrows of raising one, now two children with special needs…here is a link for further information: Kevin speaking at Calvary Church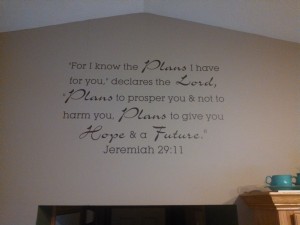 Have you ever had one of those moments that God is so present you could touch him? We have had many of those over the years, especially in the past one. We had one this week that was like a 2 x 4 to head with the message of "I am in control here, I've got this!" It was in the form of a phone call early on Thursday morning…It very well could have been God, or an angel. In reality it was a surgeon from U of M.
We have this verse on the highest part of our family room wall. A Christmas gift from Hannah to mom. It is a great verse for our family:
"For I know the plans I have for you," declares the Lord, "Plans to prosper you and not to harm you. Plans to give you Hope and a Future."  Jeremiah 29:11
Theresa is probably the best advocate for care and support for our family I could ever imagine or even come close to duplicating. She has a gift for negotiating through the system of medical care for each of us…especially the more difficult cases in our family. Together we are still learing how to compliment what God is doing instead of working to do this all on our own.
Here is what happened this week…
This is the longest period where Isaac has gone without a dilation (stretching) of the repair site of his esophagus. The plan was to see if the current course of treatment was effective at controlling and keeping ahead of the scar tissue forming at the repair site. Theresa had her reservations about going so long but we were trusting the advice. It all came to a thunderous moment during the middle of the night with the comments of Isaac's nurse. The comments only confirmed the feelings and Theresa's intuition…It was pretty clear that his esophagus had either closed up or was about to.
This story really started a few days before in a message heard on Sunday about the question of our willingness to really allow God to be in control of things and, more importantly, are we willing to stop doing and saying things that would alter the outcome. The outcome of what we say we are allowing God to have complete control of. In simple terms: do we say "God I trust you, I trust your plan" and then try to control everything on our end? We are pretty good at saying that God is in control…our biggest problem is that while we say we are allowing God complete control we are full of fear, are anxious, wondering if we should have done something more, said something we forgot to say.
During the early morning hours of Thursday while Theresa was up, during her many times during the night, the nurse made a comment that Isaac was not refluxing and he had more secretions than the last time she was with him. This all confirmed the uneasiness and suspicions that Theresa was feeling. A new plan had to come together! But, it was 4:00 A.M.! Who to call first in the morning, his surgeon here, the new surgical team in Ann Arbor? We have a history here…the fears and doubts are not unfounded. The last time we faced this Isaac spent more than a week in the hospital from complications from trying to open up the esophagus and a resulting collapsed lung.
We lay in bed and talked about the situation. We prayed separately (we aren't perfect, yet) as we thought about what "plans" to make in the morning. I knew that Theresa would not be able to sleep…I prayed for her to get rest. I prayed for the situation to become clear as we woke up in the morning. Theresa prayed that his esophagus would be open, that they would be able to find a path. We both fell asleep with this heavy on our minds. Another emergency in the morning that would change our plans.
As I woke up and headed down the hall to relieve the nurse the phone rang. It was one of the two new surgeons (the one we hadn't met) from U of M. He just "happened" to be catching up with cases after being gone and had just reviewed Isaac's case. He called to see how Isaac was doing and to ask if we had any questions. I handed to phone to Theresa and wanted to say "It's God on the phone." It's quite amazing how God wipes away all of the questions on what to do in a single phone call. We just needed to sleep on it. All the plans we struggled with the night before? Gone. A new plan, a new peace and understanding. He is in control, He's got this!
That new plan starts tomorrow…we could use some prayer over the next two days. Monday and Tuesday, January 14 and 15. We have one day of appointments and are waiting for the operating room schedule for Tuesday. Isaac will have a dilation, and a scope to get a good look at his esophagus and stomach. The plan is to schedule surgery (a nissen fundoplication, for those keeping score) and a repair of a hernia as soon as possible to relieve the constant reflux. Pray that the dilation and the scope go without complication and that we can keep it as an outpatient procedure this time around! Also pray as we consult with these surgeons who are specialized in dealing with difficult cases such as Isaac's. They continually remind us that his issues are not easy, but are possible to fix.
You may share our story, our prayer needs and this blog as you feel led by using the share buttons below. If you would like updates on when new content is added to the blog or to keep up with current prayer requests for the Troupe's you may subscribe at the top of the right hand column of this blog. Don't worry about providing your email address…I had enough SPAM growing up…l would never send any unnecessary SPAM your way!