Upon entering the living space of our home, the great room, one cannot help but notice the adaptation we have had to make to separate this open space for the sake of safety and sanity. Our great room consists of the living room, dining room and the kitchen as one large expanse with vaulted ceilings. Having known that we would be gifted with the opportunity to raise a special needs child we would have probably chosen a different home layout complete with concrete floors, walls that would absorb impact, countertops that double as chewable sensory imput devices, windows we can actually open without fear of Matthew throwing our possessions out of, radiant heat so the vents and ductwork would not become toy storage…you get my point. We never imagined the added value of the entertainment watching guests in our home try to negotiate the maze and figure out the gate latches.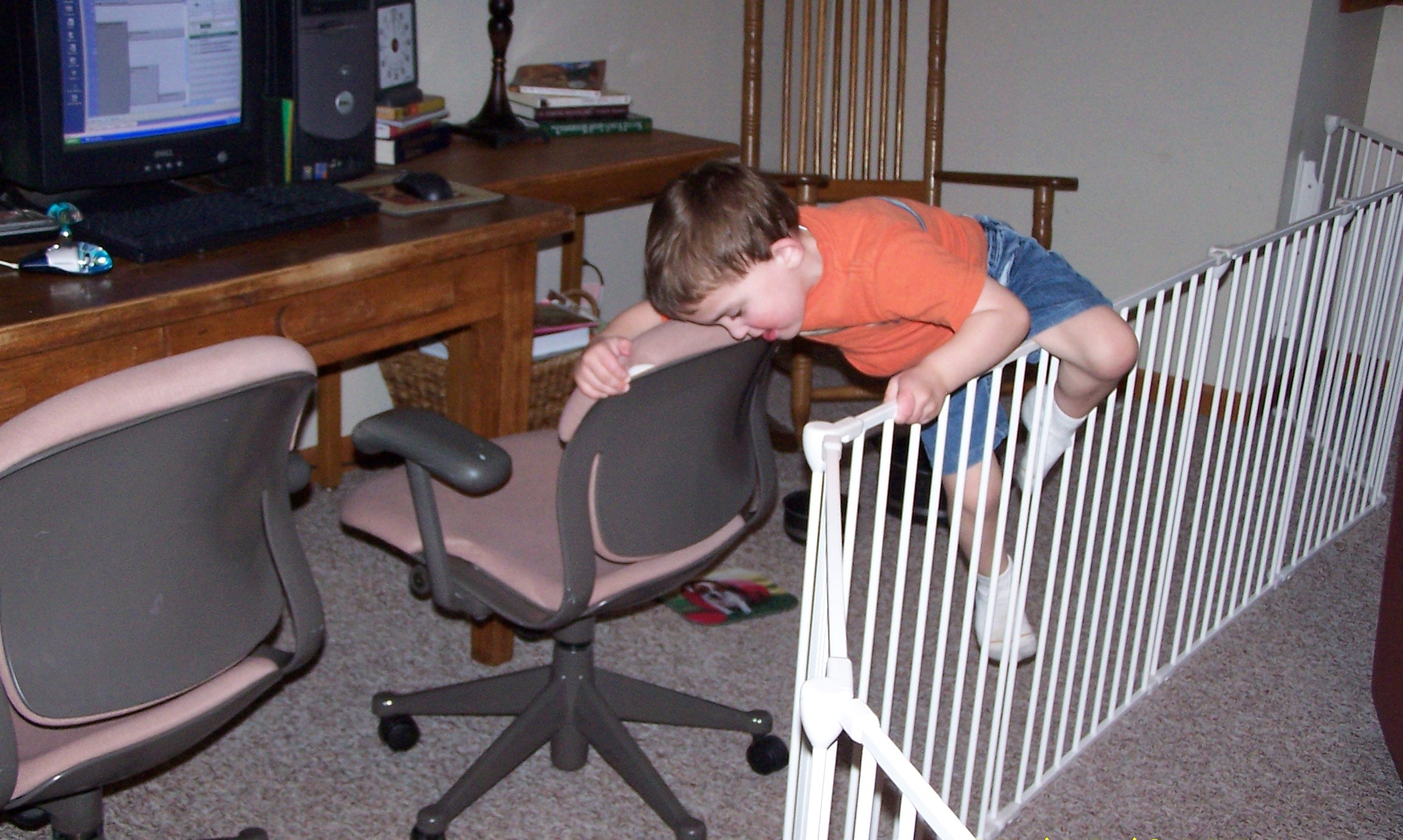 Over the years the fence has moved and changed configuration and purpose. Once used to keep the dogs out of the living room and to keep Matthew out of the kitchen, it is now used to keep the dogs in the same area, to keep Sarah Anne out of the kitchen and to just slow Matt down. He learned to climb the wall a long time ago. When that happened we looked at our options…taller wall or razor wire? We finally decided on no changes and to take the stance of "high alert" at all times.
One thing we can always be assured of with Matthew…he will figure out just about any obstacle we put in front of his desire and drive to get what he is after. Just this past week we realized he has figured out how to open the gates. Apparently this has been going on for a while, we have just been blaming each other for leaving gates open…which often results in one or all of the following: Toys being chewed by dogs, a full-out wrestling match of the dogs on the living room floor, Matthew opening the slider and tossing puzzle pieces into the back yard (later to be chewed by dogs), Sarah Anne playing in the dog water bowls, Sarah Anne eating dog food, etc…It is just short of looting and rioting. Alright, so maybe it isn't that bad…We were just getting comfortable in a sense of security.
I shared a few weeks ago (The right fit…) that the DVD case that I had made for Matthew needed some work…Another victory lap for Matthew this week was that he has found out that he is strong enough to open the latches on his case. This was discovered as he was about to throw the unprotected DVD player down the stairs. A quick interception by defensive back Theresa Troupe saved the new, one week old DVD player from an untimely death. The case now has a sporty combination lock added to the side. Please, do not share with Matthew our telephone area code.
Iron rusts from disuse, stagnant water loses its purity, and in cold weather becomes frozen, even so does inaction sap the vigor of the mind.  Leonardo Da Vinci
A great quote from Leonardo Da Vinci…We can relate in that we cannot remain still in dealing with Matthew's resolve. We have to remain in constant movement and keep ahead of him.
Our spiritual life is not much different. We must always continue to move forward, keeping our eye on the goal. Paul worded it like this in a letter to the Philippians:
"Not that I have already been made perfect, but I press on to take hold of that for which Christ Jesus took hold of me. Brothers, I do not consider myself yet to have taken hold of it. But one thing I do: Forgetting what is behind and straining toward what is ahead, I press on toward the goal to win the prize for which God has called me heavenward in Christ Jesus."  Philippians 3:12-14
Press on Matthew, we are watching and ready to react…Press on brothers and sisters, He is watching and ready to help and ready to reward.