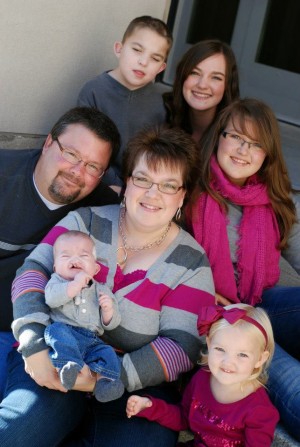 This year Theresa and I celebrated our 21st anniversary in style. We started the day with a doctor's appointment for Isaac and Matthew, a tandem visit to the eye doctor, with Sarah Anne tagging along for the ride. Our romantic stop was to Sandy's Donuts, a West side favorite, to pick up a few of our favorite fried cakes. Sandy's has been a special treat from our first days of dating. I made a grocery run in the afternoon to pick up some staples to prepare one of Theresa's favorite meals…breaded chicken strips and my famous hand cut french fries, double dip fried to perfection.
Just as we were finishing our meal things turned bad…Matthew came running out of his bedroom, sans a diaper and we discovered that he decided to "paint" a mural for us on his bedroom wall and window. Only not with paint. This occasional spark of creativity from our little Michelangelo unfortunately is not an uncommon occurence. The protocol is the same, work from the ceiling down the walls to the floor. Apparently we have become quite proficient at this task. All the while Theresa and I were sharing our anniversary gift, Sarah Anne was frantically searching for the box of Swiffer pads that we had recently relocated to another spot. By the time she found them we were already snapping our gloves off and placing the bio hazard in the trash. The scene that happened next melted my heart…and became the thought process for this blog entry. After inspection of Matthew's room, Sarah Anne came down the hall, crying as if she was denied a perfect gift. With a dripping Swiffer wet pad in hand she managed to say between breaths: "there is no poop left for me!" After a few minutes of calming we assured her that were thankful she wanted to help and that next time we would leave her some poop to clean.
Now that the adrenaline rush of living life in hyper speed…our new "normal" is beginning to settle in. My heart breaks for Theresa who bears the brunt of not only being a nurturing mom but also has become a pharmacist, employer of nurses, manager of our medical supply room (our bedroom), therapy and doctor appointment setter…etc. All of this…now times two (in the special needs arena). Most days she is strong…but, there are also many that she is weak…I am weak. As much as we try to shield the rest of our kids from having to take on the responsibility of caring for their brothers, they willingly step in when they see that we are at the end of our strength. When asked by a doctor about being a big sister, Sarah Anne proudly announced her role as a "booger getter." She actually is quite good at sucking boogers from Isaac's nose with the BBG (booger-be-gone) attachment. Hannah and Megan have been nothing but stellar in helping with their siblings as well.
I wrote a post several months back while we were in the early days of this new journey with Isaac titled: Facing the storm…sunshine above the clouds where I talked about the storm we were in and how if we keep out eyes focused on Jesus who asks us to step out of the boat in the middle of the storm he will sustain us…keep us from sinking into the crashing waves. The adrenaline rush of being in crisis mode made it easy for us to keep that focus sharp. Issac will be 6 months old this week and as we creep closer to evening out the days at home versus days in the hospital, our focus can begin to get blurry. Theresa will honestly admit that she has felt cheated of having a newborn and a "normal" baby. Those are normal feelings but they guilt still surfaces for even having them. Peaceful rocking in the dark and nursing and cute outfits have been replaced by syringes, pumps, meds, tubing and seemingly endless suctioning of his trach…and clothes that accommodate wires, tubes and a trach. Our home is an open door for caregivers, delivery drivers, equipment specialists, therapists, etc. All of this is familiar and sort of "round two" of having this experience already with Matthew but much more medically involved this time. We have begun a new round of stares and looks as Isaac always travels with an accessory cart of equipment. The hardest part for now…Theresa and I can not leave the house alone together or separately without Isaac. Yes, we do have a nurse for 8 eight hours each day, but we use that time for precious sleep. Many ask the question of "why can't Hannah or Megan watch Isaac?" Well, they do for a quick run to the car, to the basement or a shower…but we do not and will not ask or expect them to take on the role of a nurse. They are mature beyond their years but they deal with enough already. Hannah and Megan are proficient at laundry, shopping and excellent at meal planning…as I said, they do enough already.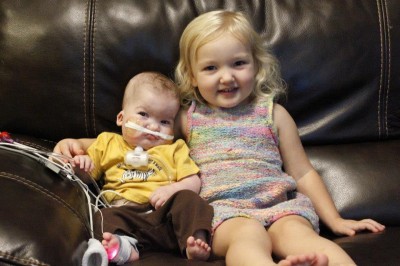 Sarah Anne with her "There's no poop for me" comment made us think a lot about our perspective on how our "serve" attitude is calibrated. Yes, we needed that to regain a focus. We have MUCH to be grateful for. We just calculated that Isaac did not have one overnight stay in a hospital the whole month of October! As I was reading that "storm" post from a few months ago I was thinking about my experiences of flying in an airplane. I have always thought how neat it is, no matter how dark, cloudy and overcast things are close to the ground, the plane rises through the darkness and activity in the clouds and breaks free in perfect sunshine above. There are days we need to reach higher than some…but, there always is sunshine above the clouds that roll through our lives. No matter how low you may feel or how dark things may seem…reach as high as necessary to reach the SONshine…he is always there.
ISAAC UPDATE (and prayer): We thank all of you who have been faithfully praying for the Troupe's. Isaac continues to have dilations to stretch his esophagus weekly, and now moving to every 10 days. This is a procedure which includes sedation…so continue to pray for no complications for these. As Isaac grows and stabilizes we begin to look forward to the cleft lip and palate. Tentatively we are looking at starting the first of about 5 surgeries to fix the clefts in January…all this is dependent on how the dilations go and we can safely remove the stent tube through his nose that keeps his esophagus open.
As you are praying, we could use some extra prayer as we enter into the busy months of November and December. We all enjoy Festival of Lights (our church Christmas production) but it is a rather long run stretched out days and weeks. Sarah Anne was one of the babies who played baby Jesus a few years ago. We were joking about how fun it would be to have Isaac play the part this year too…but I think the oxygen tank, the monitor, feeding pump and the buzz of the suction machine would be a little much!
You may share our story, our prayer needs and this blog as you feel led by using the share buttons below. If you would like updates on when new content is added to the blog or to keep up with current prayer requests for the Troupe's you may subscribe at the top of the right hand column of this blog. Don't worry about providing your email address…I had enough SPAM growing up…l would never send any unnecessary SPAM your way!