Being served…brings up all kinds of wild thoughts. Could it mean legal documents filled with Information that is about to change you life forever? Makes your heart start to race, brings a dry feeling to the mouth and a shortness of breath just thinking about it. Thankfully I have never had this particular scene happen to me. But, I did have the same kind of reaction and symptoms when I was told by my co-workers and other volunteers from the church I have the privilege to work with that we were going to be "served", in the form of a work day at our home. A completion of the mommy-is-nesting list of things that was crumpled up and tossed aside when Isaac decided it was time to join us a full six weeks before he was supposed to.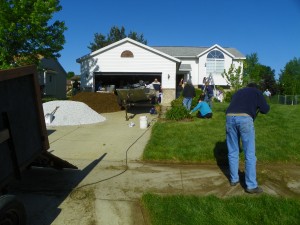 A week ago, nearly 40 people arrived in cars, vans, trucks and trailers to spread 5 yards of shredded bark, 3 yards of crushed stone, till and plant our summer vegetable garden, weed and prune bushes, clear brush, define bark beds, edge sidewalks, power wash furniture and play toys, stain the deck and stairs, wash windows, clean our hard floors, finish a painting project and hang a couple of new light fixtures.
We were blessed beyond words. We had tears streaming down our faces as we drove away to be with Isaac and his upcoming procedure that day. We had to surrender and allow people to do this for us…not for us, but for them. The most humbling part of the experience of being served was not the amount of work that was completed and the beautiful park-like appearance of our yard…the most humbling was that this was a voluntary work day. My fellow friends in ministry did this for us…as a gift. How could we be so selfish as to deny them their blessing by blessing us?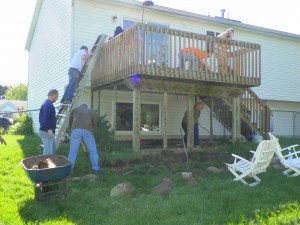 I am usually on the giving side of this kind of thing and I know full-well what it feels like to give of time, talents and treasure. Our family has not been a stranger to having people do things for us over the years. A well-timed offering in the form of a check when it was most needed, clothes, meals when we had hospital stays for surgeries, a vehicle when the main one we used suddenly died, and prayer…lots of prayer. But, for some reason, this time it was different…people entered our home, walked on my turf, washed my floors, cleaned my toilets as an act of love…It was very personal. Have you ever had your feet washed? By your friends?
It was just before the Passover Feast. Jesus knew that the time had come for him to leave this world and go to the Father. having loved his own who were in the world, he now showed them the full extent of his love. The evening meal was being served, and the devil had already prompted Judas Iscariot, son of Simon, to betray Jesus. Jesus knew that the Father had put all things under his power, and that he had come from God and was returning to God; so he got up from the meal, took off his outer clothing, and wrapped a towel around his waist. After that, he poured water into a basin and began to wash his disciples' feet, drying them with the towel that was around his wrapped around him. John 13:1-5 NIV
There were protests all around the table, Protests that included phrases such as "my feet'? "You shall never wash my feet". Jesus modeled the way we are to serve, to wash one another's feet from time to time…and allow it to be done. The blessing goes both ways:
When he had finished washing their feet, he put on his clothes and returned to his place. "Do you understand what I have done for you?" he asked them. "You call me 'Teacher' and 'Lord," and rightly so, for that is what I am. Now that I, your Lord and Teacher, have washed your feet, you also should wash one another's feet. I have set you an example that you should do as I have done for you. I tell you the truth, no servant is greater that his master, nor is a messenger greater that the one who sent him. Now that you know these things, you will be blessed if you do them." John 13:12-17 NIV
Having been on both sides of the whole serving and being served, I thought it would be helpful if we shared some of our experiences, some helpful hints as you offer service to someone who would benefit while in a time of need.
Don't always assume that even simple needs are being met. Animals need to be let out or fed, a lawn that needs to be mowed, driveway or sidewalk shoveled, mail brought in. Food…it is amazing how much something as simple as a meal can calm things down and give a family a reason to sit down while the life around them is in turmoil.
Change your phrase…from "If there is anything I can do…" to "I am headed over to mow your lawn…where do you keep the mower?" or, "I am at the grocery store picking up some things for you…what is on your list" When you take the time to be actively thinking of their needs it will mean more. And, those who are too proud to ask for help will willingly accept if you are already in the act of helping…trust me, I know…I am still a work in progress on the receiving side of things.
Small things mean a lot…It can be hard to accept money from people as a gift to help out. A softer approach is the use of a gift card or cards to a coffee shop, a sandwich shop, restaurant or for gasoline…especially if the hardship involves a hospital stay. There are many trips back-and-forth to the hospital, gift cards are extremely helpful.
Fellowship…If the hardship involves a hospital stay or a long recovery at home…a visit can do wonders as boredom sets in. We call it being on "hospital" time…minutes feel like hours sometimes. A visit doesnt have to be a long one…even a 15 minute visit is enough to break the boredom watching and waiting for healing to take place.
The Isaac update. We are now entering week number 4 at the Devo's Children's Hospital, floor #3. We are still waiting on the healing of the esophagus repair and the next step in the process. Next week Isaac will have the area where the esophagus was repaired dilated to open it up. We know that his breathing issues are due to an excess of secretions in his throat…the narrow esophagus (about the size of a pencil lead) and one of the possible "C's" of CHARGE, a Cranial Nerve problem of a weak swallow. We had a brief moment last week when they tried, unsuccessfully, to allow his pump/tube feedings to empty into his stomach…this made for 24 hours of constant reflux. Issac may be looking at going the same route as his big brother in that Matthew had a procedure to create a one-way valve at the top of his stomach and a feeding "button" added to allow tube feedings directly to the stomach instead of a tube through the nose. Please continue to pray for healing, direction and peace in the decisions and possible paths to take in the coming weeks.
Many have asked how we are doing as a family…we are good, but tired. This afternoon while Sarah Anne and Theresa were passing the credential area of the hospital lobby, Sarah Anne (who is never short of words) told the security guard "we are here to see my brother, Isaac…he lives here". We just want him home…
You may share these prayer needs as you feel led by using the share buttons below. If you want updates you can subscribe to the blog by becoming part of Matthew's and Isaac's prayer team. Don't worry about providing your email address…I had enough SPAM growing up…l would never send any unnecessary SPAM your way!