A sincere thank you to those who regularly read this weekly blog…I hope it has been as encouraging to you to read as it has been to me to write and put together. You may have noticed a few changes, mainly in the colors and backgrounds. What you may not have noticed is that Lessons from the Book of Matthew now has it's own hosted web-site:  lessonsfrommatthew.com  By moving in this direction I will be able to add more features to this site such as the opportunity in the upper right corner to become part of Matthew's Prayer Team. Some of you are already involved and have been involved for many years. Matthew's Prayer Team receives a notice when a new blog is posted along with a prayer list specific to that week. Thank you for your interest in this beautiful gift from God…our Matthew.
I finished a book recently about a single mother who was abandoned by her husband after not being able to handle the pressure of raising a special needs son. In this case it was a child with autism. The title of the book was Dancing with Max and the author was Emily Colson, daughter of Charles Colson, founder and president of Prison Fellowship and former aide to President Nixon. This book was filled with many stories and experiences that resonated with our family. Emily's insights and vivid honesty to those who challenged her intuition and heart concerning the best interest of her son Max was very engaging and powerful.
One particular experience that stuck out to me and is the subject of the blog this week was about a trip to a local convenience store for Max with a care-giver who was not completely briefed about how to win over the store clerk and explain, at least in some part, the strange rituals that often surround a person with autism. Max's fascination was with the refrigeration units found in convenience stores. He would categorizes the make, model and temperature settings of each refrigerator. He would give the same attention to other key appliances in these establishments including the microwaves and freezers. Max would jump up and down and get very excited as he rattled off the credentials and current temperatures of each unit. In this case the store clerk was not impressed and and asked what he was doing and told the care-giver that he is not to touch anything. The care-giver told the clerk that he wanted a soda…not revealing the real truth that they were just there to look at the refrigerators. The whole time the clerk was questioning the motives of Max there was a lady in line trying to buy a candy bar. As she was watching this exchange unfold, dirty looks from the clerk and an anxiety level of the care-giver were increasing. The care-giver finally convinced Max to leave and passed the clerk who had her hand out to take the money from the lady in line purchasing the candy bar. They both just stared at Max and the care-giver as they walked by. Then a strange thing happened. The lady buying the candy bar just dropped it on the counter and followed Max and the care-giver out the door saying "I think I will find a different store too." Just as Max cleared the door he turned around and spoke to the clerk saying "You could learn from me." The lady who refused to buy the candy bar said to Max on her way out the door "You're right. We can learn from you."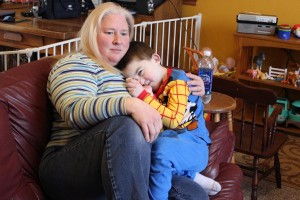 I have shortened the story a little but I think you get the point. Individuals with special needs have a lot to offer us "so called" normal people. We can learn a lot from them, they view life differently from how we do. They also have a way of meeting us right where we are and filling a need when it is most needed. With Matthew it is in the way he communicates and shows affection. Usually on his terms and when he is ready, he will give the non-prompted hug or even take you to a chair or couch and cuddle with you. Because they are so rare, time will stand still and we will stop whatever we are doing to take in the moment.
Just a little over a week ago was one of those rare moments. We had some long-time friends over to watch the Daytona 500. Matthew usually spends these times in the comfort of his own room to avoid the commotion. During the race he came out and climbed on the lap of Linda, one of our dear friends. We all took a moment and talked about the oddity and uniqueness of the exchange. Matthew stayed on her lap and cuddled with her for quite a long time.
Just a few days later Linda was grieving the loss of her Father who passed away after a long illness. While receiving friends at the funeral home Linda mentioned to me that "…Matthew just knew that I would be needing some extra hugs this week."
Once again Matthew, you have shown us that you are a unique messenger and vessel of our Father's love, given to us to share.
Thank you Linda for allowing me to share this story…